6KGOLD FIFA 18 TEAM OF THE WEEK 13 PREDICTIONS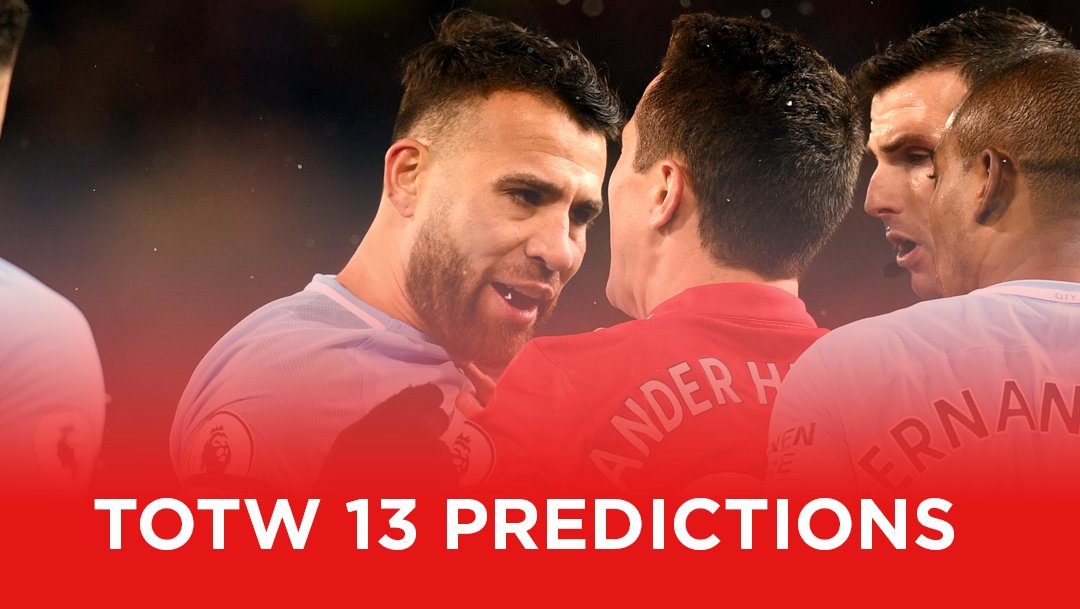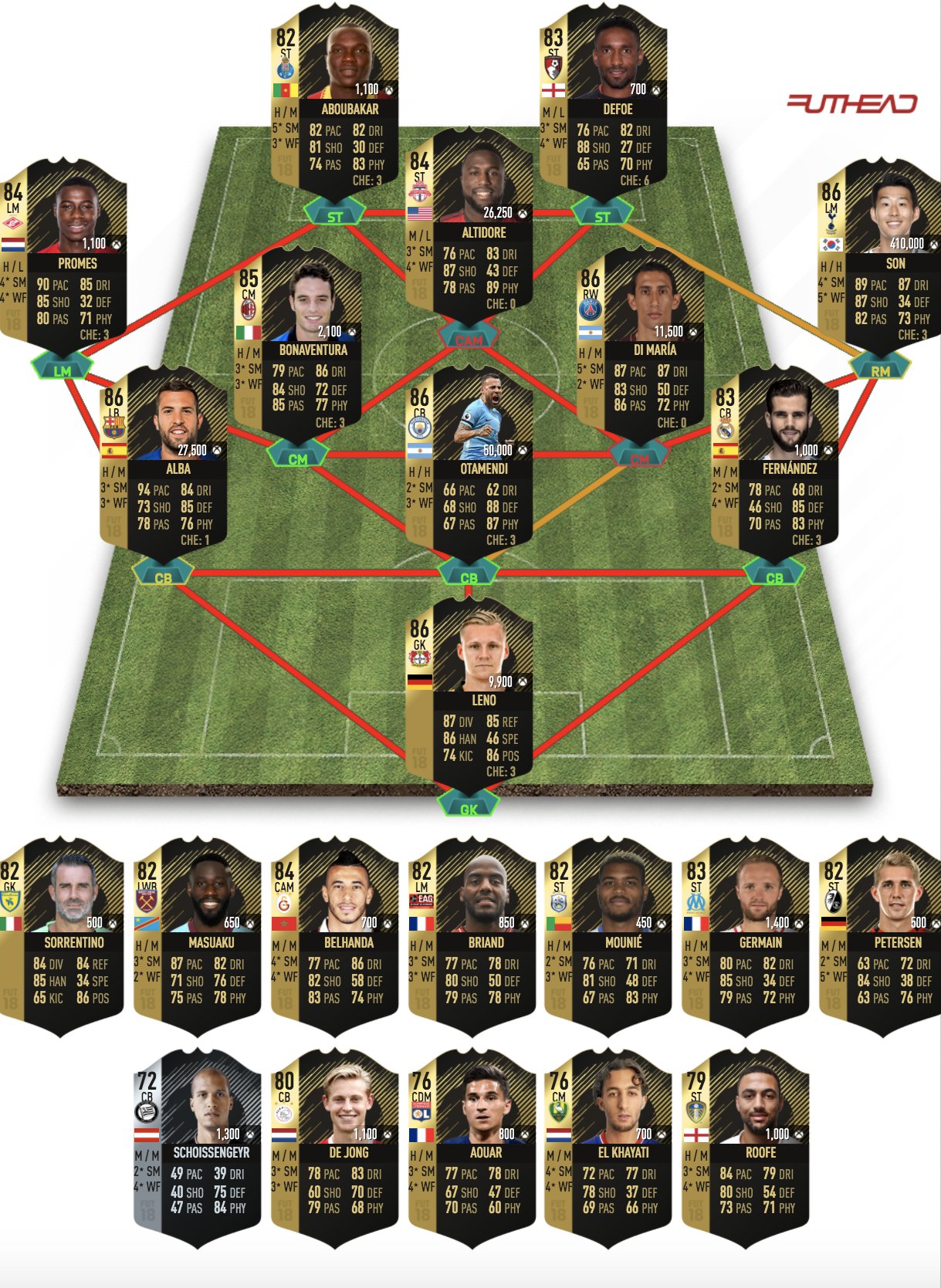 GOALKEEPER
Bernd Leno - GK - OVR 85 There were a few big-name goalkeeping options to choose from this week but with the Bundesliga offering very little alongside the fact that they have been in favour in recent weeks leads me to select Leno. The German made a total of five saves in Leverkusens 2-0 win over Stuttgart, picking up a 1.5 from Kicker.
DEFENDERS
Jordi Alba - LB - OVR 85 We saw no less than three defenders make the cut without an attacking contribution last week. That combined with the fact there is a real lack of big name options makes Alba an attractive option to me. The defender picked up MOTM with three stars from MARCA after his defensive display in Barcelonas 2-0 win.
Nicolas Otamendi - CB - OVR 83 City continue to show their dominance in the Premier League and now sit a huge 11 points clear at the top after their 2-1 win over Manchester United. It was a tight affair but once again it was Otamendi who found himself on the scoresheet, netting the eventual winner to take his tally to four for the season.
Nacho Fernandez - CB - OVR 81 There is a chance for Ronaldo to feature in this weekĄ¯s side but with his recent TOTGS item and the fact that two goals, one of which was a penalty really isnt that impressive for him. Nacho Fernandez is also a very strong contender and is who I am opting for. The Spaniard scored one of five Madrid goals in their very convincing 5-0 win over Sevilla and alongside Ronaldo was the only Madrid player to receive the maximum rating from MARCA.
MIDFIELDERS
Quincy Promes - LM - OVR 82 Spartak may well have lost 7-0 to Liverpool mid-week but it seems to have had no effect on their domestic performance. The Russian side bounced back with a 3-0 win over rivals CSKA to make it five consecutive league wins. Promes scored the first and second of those goals, claiming his spot in this side.
Giacomo Bonaventura - CM - OVR 83 Bonaventura was in line for an IF last week until the heroics of Brignoli. The Italian managed to put in another shift on Sunday of which he scored both Milan goals in a 2-1 win over Bologna. An IF that I will be looking to pick up.
Angel Di Maria - RW - OVR 85 Although Di Maria didnt make LEquipes final cut for TOTW, the fact that he is one of only a couple of big names in contention for this weekĄ¯s side makes him that much more attractive. The Argentine grabbed both a goal and assist in PSGs 3-1 win over Lille.
Heung Min Son - LM - OVR 82 With a lack of both big names and midfield options Son fits the bill for both, at a push. Spurs produced a convincing display with a 5-1 win of which both Kane and Son impressed within. I believe the IF will go to Son who scored one and assisted another from a wide midfield position with Kane currently being in the TOTGS side.
FORWARDS
Jozy Altidore - ST - OVR 76 Historically, we have seen the MOTM in the MLS final pick up a special item and should that trend continue, we will be seeing an Altidore on Wednesday. The American scored the opener in Torontos 2-0 win over Seattle
Vincent Aboubaka - ST - OVR 78 Porto are still unbeaten after 14 games, recording their 11th win via a 5-0 away win over Setubal. Aboubakar was involved in four of those goals, scoring three himself alongside assisting another.
Jermain Defoe - ST - OVR 80 We saw an additional two PTG items receive an upgrade last week and it looks as though another is on the way. This time it comes in the PL with Defoe after the striker was given a chance ahead of Wilson. He repaid them with a brace, which saw them pick up a point in a 2-2 draw with Palace.
SUBSTITUTES
Stefano Sorrentino - GK - OVR 79 Sorrentino has been on the verge of an IF several times in recent weeks, but this has without a doubt been his strongest shout and if he doesnt make the eventual cut I would be very surprised. The veteran stopper made a total of eight saves denying Roma the three points by keeping the clean sheet. Gazzetta awarded him with an 8/10 for doing so which almost certainly will result in his IF.
Arthur Masuaku - LWB - OVR 75 West Ham pulled off the shock win of the weekend, managing to beat Chelsea 1-0 at home. Arnautović was the man with the goal, however I am going with one of the defenders in Masuaku who made a total of five tackles and was a constant threat down the left flank, managing a total of eleven take ons.
Jimmy Briand - LM - OVR 78 Guingamp made it back to back wins with a 4-0 win over Dijon on Saturday which after a run of seven games without a win is exactly what they needed. Briand picked up both a goal and an assist, which saw him pick up MOTM with an 8/10.
Younes Belhanda - CAM - OVR 81 Galatasaray had a difficult day at the office, finding themselves two down at half time when they hosted Akhisarspor. An inspired second half saw the Turkish side run away with a 4-2 win and more importantly all three points. There are a couple of candidates from the game but with Belhanda picking up MOTM for his goal and assist it makes sense to go with him.
Nils Petersen - ST - OVR 76 There have been some huge comebacks in recent weeks in Germany and Freiburg have now joined that list. Away from home, they found themselves 3-0 down at half time but miraculously went on to win the match, 4-3. Petersen scored three of those goals and although two came from the spot in both the 90th and 95th minutes the German picked up POTW which alongside his hat trick makes him a shoe in for this side.
Steve Mounie - ST - OVR 76 When two newly promoted sides face off, it is often vital to pick up three points, and although both Huddersfield and Brighton sit in midtable, come the end of the season, this could prove to be a huge three points. It was Huddersfield who managed to claim the points, courtesy of two quick Mounie goals. With the lack of PL options, Mounie stands a real chance coming into week 13.
Valere Germain - ST - OVR 80 Marseille continued their unbeaten run to eight games in all competitions with a convincing 3-0 win over St. Etienne. Germain was the stand out player in the match, scoring two of the three goals, both of which were assisted by Thauvin. It was Germain who ended up picking up MOTM though, and thus it suggests he will be the man picking up the IF.
RESERVES
Christian Schoissengeyr - CB - OVR 64 Although both Schoissengeyr and Graz conceded twice, which is not ideal for a defender, it was the CBs offensive contribution which stood out. The Austrian scored two of three Graz goals in their narrow 3-2 win which allowed them to go two points clear at the top.
Frenkie De Jong - CB - OVR 72 Ajax produced a convincing 3-0 win at home to PSV from which three players picked up an 8/10 which was the joint highest rating of the week. De Jong was the official MOTM though, after his assist and clean sheet from defense, and for that reason I am going down that route.
Houssem Aouar - CDM - OVR 67 Lyon managed to scrape a 2-1 win away to Amiens, with the home side missing a penalty in the 89th minute before Lyon went on to score the winner themselves in the 94th. It was their young talent, Aouar who scored both the goals which in turn saw him pick up the joint highest rating from LEquipe with an 8/10.
Abdenasser El Khayati - CM - OVR 66 While the top players of the week all came from Ajax in terms of match rating, El Khayati arguably put in the best performance. The midfielder was crucial for Den Haag in their 3-2 win, scoring twice and assisting another.
Kemar Roofe - ST - OVR 70 We end the prediction with an easy selection in Roofe after he scored all three Leeds goals in a 3-1 win over QPR from the more advanced role of ST.